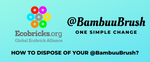 How to dispose of your @BambuuBrush
Eco Friendly Products - Environmental Packaging - @BambuuBrush
Compostable packaging - Eco Friendly Products - Bamboo Toothbrush
Firstly amazing work by you guys for swapping away from plastic to an @BambuuBrush bamboo toothbrush, we love having you a part of our movement on making simple changes away from plastics.
So, as i'm, sure you are aware our @BambuuBrush is made from a bamboo handle which is 100% biodegradable and our PBT bristles, PBT is a polyester which is a plastic. Unfortunately there is no 100% biodegradable bristle that @BambuuBrush could condone using at this moment in time. The only options out there at this minute are Pig/Boar hair, which we personally wouldn't feel comfortable using and certainly wouldn't want to sell to you guys. So we need to help you all in how we can dispose of your bristles correctly once you have finished using it.
Of course, disposing of your @BambuuBrush is the last option, firstly please try and reuse it for cleaning and any other creative ways you can think of so we can get the most use out of it as possible. Once your @BambuuBrush is fully caput there is 2 parts of the brush which we advise you dispose of differently: 
PBT Bristles
You can pull these out with pillars, they are easily dislodged from the bamboo handle so won't take too much time at all and is pretty fun. Due to PBT not being recyclable we advise that you put your bristles in an Eco Brick. Below is a video explaining why we should use Eco Bricks. An Eco Brick is essentially a used plastic bottle which you fill up with no biodegradable plastics which you deliver to an Eco Brick centre and then they get used to make playgrounds, schools, buildings locally and in developing countries.
The next video is how you create an eco brick and does explain that you can create your own projects, this would be amazing at schools, but if not you can donate these to Eco Brick centres in your area. Click here to find out where your closest centre is. 
100% Biodegradable Handle
Once you have disposed of your bristles correctly, there is so much you can do with your bamboo handle. It is 100% biodegradable and natural.
- Use it in your vegetable patch for labels 
- Burn it on a log fire
- Simply dispose in your compost 
- Put it back in nature
If you have any questions about the disposal of your @BambuuBrush, please do not hesitate to get in contact with Tommie or Rebecca via Instagram or email at bambuubrush@gmail.com
Make sure you get your environmentally friendly toothbrush from @BambuuBrush and get involved