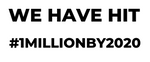 We have sold 1 million bamboo toothbrushes in 2019
Eco Friendly - Bamboo Toothbrush UK - @BambuuBrush
First bamboo toothbrush in the UK to sell 1 million bamboo toothbrushes - Eco Conscious - @BambuuBrush
Since we launched @BambuuBrush in February 2019 we knew that we wanted to
set ourselves crazy, outrageous targets to create real change to our planet. The first one was to reach #1millionby2020 – that's to sell one million of our bamboo, environmentally-friendly toothbrushes out in the world by the start of 2020. Our aim was to restrict the world of 1 million plastic toothbrushes and we smashed it. With your help, we got there a full three months early!

Any of you who have met @BambuuBrush co-Founders Tommie Eaton and Rebecca Dudbridge won't be surprised by the fact that their hard work has paid off. And you won't be surprised that they're not stopping there, with new targets being set before this week.
Rebecca said: 'We want to thank everyone who has been a part of our journey so far. We couldn't have done it without everyone who's bought an @BambuuBrush toothbrush, and especially to the 1000+ of you who've sent us a photo of you doing our @BambuuBrush pose, posted on social media and spread that awareness on plastic pollution and making simple changes away from plastic.
'And this is just the start,' added Tommie 'Today, there are one million fewer plastic
toothbrushes in circulation around the world. All our customers have helped reduce the number ending up in landfill or in our oceans.'
Watch this space for more news about the new @BambuuBrush targets and how you can get involved.