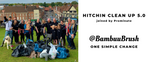 Local actions that can make a difference - @BambuuBrush
Plastic pollution - Cleaning Up - Hitchin
Eco Friendly - Pollution - Town Clean Up 
Hitchin town
is a little tidier thanks to a stalwart crew of 18 volunteers, and 2 dogs, who gave an hour of their Saturday morning to pick up litter alongside the
@BambuuBrush
team. Nearly 30 bags (plus nearly three chairs) of discarded bottles, cans, sweet wrappers and assorted litter was collected and taken away for recycling or waste disposal.
Organised by Tommie (who grew up in Hitchin) and Rebecca from @BambuuBrush, the clean-up was supported by volunteers of all ages. A team from
Prominate
, who are experts in promotional material, came over from their base in Luton to do their bit. 
@BambuuBrush will be working with
Prominate
to provide large companies not only sustainable and eco friendly products but an education on how business' can make an impact with the business' they work with. With Prominate being one of the largest companies in the world to supply marketing products to well known house hold names, they are in a great position to influence the market in a positive way away from plastic to more sustainable products.
"Everyone who came today has made a difference to our local environment," said Tommie. "In one hour, we cleaned so much rubbish that looks ugly and can also have an impact on wildlife."
For Rebecca, it's the small actions we can all take that have an impact: "Obviously, we're committed to cleaning up the world with @BambuuBrush, but it's also about local action. We're aiming to organise clean-ups regularly, so watch out on social media for the next one."
For Tommie and Rebecca, their bamboo toothbrush is just a small part of their bigger picture as a company. Tommie goes on to say "the message behind @BambuuBrush, that every single one of us having the opportunity to positive influence someone else by using social media in a positive way, is far more important. We can all educate, inspire and empower each other, that is how we are going to change this world!"
If you haven't seen @BambuuBrush's movement on social media, head over to their
instagram page
and check out the amazing global movement they have created and get yourself involved by purchasing an
@BambuuBrush
and make ONE SIMPLE CHANGE away from plastic!