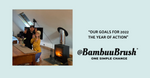 HAPPY NEW YEAR - THE YEAR OF ACTION
2022 - ECO - GOALS
TARGETS - ACTION - BUSINESS
We are grateful for YOU, our ever-growing community of members and supporters.
Bring on 2022… safe to safe we've got some big plans for
@BambuuBrush
💪🏼
We have spent the last few days endlessly planning the year a head! Days full of reflecting, setting goals and targets 💫
We couldn't be more excited for what this year has to offer, and of course we can't wait for you all to join our journey! It wouldn't be a normal blog if we didn't spill a few beans and let you in on a couple of goals! ⬇️
⭐️ We want @bambuubrush in two retail stores - Accelerating our mission to make sustainable actions accessible for all 
⭐️
✈️ Now the world is back up and running it's time for us to expand our message in the travel industry and gain another 2 partnerships with airlines and hotels to supply our @bambuubrush 
The rest remain top secret 🤫 Watch this space. 
 Again, thank you for all your support… LET'S MAKE THIS A YEAR TO REMEMBER..A YEAT OF ACTION! 💫