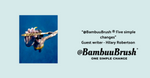 @BambuuBrush® Five simple changes Guest writer - Hilary Robertson 1/13/2022
5 TOP TIPS - ECO - GOALS
BAMBOO - HEALTH - SUSTAINABLE
Guest writer - Hilary Robertson
We built @Bambuu® around the concept of 'One Simple Change' and we quickly realised that it wasn't just about our original bamboo toothbrushes. Our determination to educate, inspire and empower continues! In 2022, can you set yourself another simple sustainable goal? Here are our top five ideas to get you thinking.
SWAP
How many swaps can you make away from single-use plastics? Take a look at your recycling bin and see what you could change. Find a local refill store like Hitchin's Wholesome Weigh and get refilling your pots and jars. And don't forget to take your reusable cup and tote bag every time you go out.
READ
Read - ensure you are informed. We love Happy Eco News and if you sign up to their email newsletter, you'll get weekly emails straight into your inbox. 
CLEAN-UP
Make a difference in your local community by regularly collecting litter. It's even
better if you can take it home to put in your own recycling.  Watch out for news of our next organised Clean-upsessions - one hour makes a huge difference when we all get together.
INSPIRE

Share what you're doing with friends, family or online to make sustainable action apart of everyone's normal life.
Let's all use social media in a positive way to create change.

WALK OR CYCLE

Walk or cycle - each journey where you leave the car behind makes a difference. Find out
more from Sustrans and see how better healthier you get, as well.
#ONESIMPLECHANGE
Set yourself a goal and see how easy it is make a difference when you take it just a step at a time. As always, let us know how you are getting on and tell us how we can help you be more sustainable.