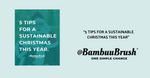 5 TIPS FOR A SUSTAINABLE CHRISTMAS THIS YEAR!
CHRISTMAS-ECO-GREEN
FOOD WASTE-ECO-PLASTIC FREE
Christmas is a brilliant time to be part of the movement towards a more sustainable future.
From the things we eat and wear, to the places we shop and the gifts we give, there are so many ways we can all help to build a better world. Below are our 5 top tips for a sustainable Christmas this year!
Quality not quantity 
Look at the materials gifts are made from and keep sustainability in mind. Just under half of UK adults say they have received gifts they don't want and will never use. Buying fewer but better-quality gifts reduces the chances of gifts going to waste and can be better for THE PLANET AND PEOPLE.
Reuse everything
Throughout Christmas, look at everything and think about whether or not it can be reused before you bin it. a great example is storing all used gift wrap for future packaging. Question everything and be aware, have discussions with family members, it's great to be creative and work together.
Use eco-friendly gift wrap
You can make your gifts look memorable with some creative use of recycled brown paper or newspaper or use fabric that can be rescued. Always check with companies that they are using compostable packaging.
Cut your food waste
Food production is the biggest cause of tropical deforestation. Try to cut any waste by planning ahead - be realistic about how much food you need and use up leftovers. Leftover food may be unavoidable, but you can save it and enjoy it the next day by using reusable lunch boxes.
Clean-up this Christmas 
The festive season is all about spending time with friends and family. Try making one of your festive activities a walk around your local park and clean-up your local community. Bring a bag and gloves and spread the Christmas spirit whilst giving back to our planet.
Click here
for more sustainable Christmas Gift ideas - Have a green Christmas.