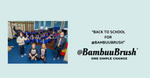 BACK TO SCHOOL FOR @BAMBUUBRUSH
EDUCATION - ECO - WORKSHOP
LEARNING - PLASTIC POLLUTION
One of the earliest drivers for us all
@Bambuu®
was in the need for education about climate change and how we can all make a difference. Now
@Bambuubrush®
co-founders Tom Eaton and Rebecca Dudbridge are finally able to return to the educational workshops they had been running so successfully before the Covid-19 pandemic hit.
"It was wonderful to be able to get back talking to children in schools," said Rebecca. "We were invited to Westover Primary School in Portsmouth and the students were all so engaged and keen to learn about sustainability."
Together, Tom and Rebecca delivered lessons to key stage one and two classes, speaking to nearly 250 students.
"We were so grateful to our partners at HPS Merchant , whose support meant that each child received an @BambuuBrush to get them started on their sustainability journey. We're looking forward to working further with the school on an exciting new project." 
To read news report on this event - CLICK HERE
Do you know a school that would like to get involved with our educational workshops? Just let us know.
Guest writer - Hilary Robertson