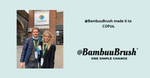 OUR FOUNDERS WERE AT COP26, GLASGOW. READ ALL ABOUT IT!
COP26 - GLASGOW - ACTION
SUSTAINABLE - BUSINESS - EDUCATION
@BambuuBrush were invited to COP26, attending a number of events, talking on live panels, marching with the people and partnering with Quickbooks and Dentabs to supply hotels across the whole of Glasgow with the worlds most environmentally friendly Dental Kits.
HERE IS A BREAKDOWN OF THEIR WEEK.
Tommie and Rebecca were invited to
The New York Times
, Climate Hub event, @BambuuBrush was featured twice throughout the day.
"We have dedicated the last 2 years to making a positive impact on our planet, making sustainable actions accessible for all. We feel honoured to be surrounded by such inspiring people who are on the same mission."
THE WORLDS MOST ENVIRONMENTALLY FRIENDLY DENTAL KIT 
 For COP26 @BambuuBrush partnered with Dentabs and   Quickbooks to launch probably The world's most environmentally friendly Dental kits which are being supplied to hotels across Glasgow throughout COP26, it's amazing to be able to inspire individuals that we can all hold the power to make 'One simple Change'
About 100,000 people marched in Glasgow to demand more action on the climate crisis, the atmosphere and energy was electric. Incredible scenes from every individual involved. The @BambuuBrush team were glad to be there.
Click here to watch Tommie on a panel discussion at United Nations COP26 Bluezone event 'We don't have time'.
WHAT DID @BAMBUUBRUSH TAKE AWAY FROM COP26?
"There is still so much for us to learn! Our focus has always been on Plastic pollution...there is so much more to it, our time in Glasgow has opened our eyes to this. We have learned that this is about Indigenous rights, social justice, biodiversity, preservation, intersectionality, human rights, women's rights, ending fossil fuel subsidies, protecting nature... we are excited to learn more and take comfort to be just one cog in a very large ever-growing machine, one that we can all get involved in.