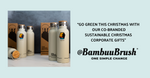 Christmas Corporate Eco Gifts
BUSINESS - ECO - CHRISTMAS
GIFT IDEAS - CORPORATE - GO GREEN
Eco-friendly corporate gifts for employees & clients.
@bambuubrush
 is offering corporate sustainable products! (co-branded)
Sustainable gifts help your clients and employees reduce waste and embrace a climate-friendly lifestyle. A big push for 
@Bambuubrush 
this year is to eradicate low-quality corporate gifting in exchange for high-quality sustainable products which inspire individuals to make 'One Simple Change'.
Our co-branded products showcase your commitment to environmental responsibility and build staff and customer loyalty. They can also help you make a statement about your values.
All our products part-fund our charity project in Ghana to combat & utilise plastic waste in local communities. Our co-branded model allows business to give back to both people & our Planet.
Please email Rebecca today for your bespoke quote.
rebecca@bambuubrush.com