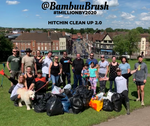 @BambuuBrush Hitchin Big Clean Up 2.0
Hitchin - Clean Up - Bamboo Toothbrush UK
Local Community fights plastic Pollution - Hitchin - Cleaning up 

@BambuuBrush's second big clean up in Hitchin, Hertfordshire, was a huge success with over 20 people joining on Saturday morning at 10am. Plastic pollution is a continually growing concern throughout the world and mainstream media is only just starting to take note. We all know that the situation in developing countries is extremely bad but once you scratch the surface in western countries, the situation is just as bad. Global warming and climate change do hog most of the content in main stream media but plastic pollution needs to be addressed as soon as possible especially with recent studies showing we eat a credit card amount of plastic per week and there are now positive correlations between plastics causing hormone changes and cardiovascular disease. @BambuuBrush are using the power of social media in a positive way to create change and inspire others to swap away from their every day plastic toothbrush to an environmentally friendly bamboo toothbrush, @BambuuBrush
@BambuuBrush and the team cleared up 26 full bin bags for other trash around the Windmill Hill area on Saturday morning. An amazing turn out with children as young as 4 joining in with their parents to volunteers in their 60's and even our big polar, Barney.
After a clean up a couple of weeks ago in Hitchin where, in typical english style, it absolutely chucked it down, @BambuuBrush have had constant interest in locals wanting to join the clean ups and get involved. The area that the team focused on was The Dell, an old bomb crater on the side of Windmill Hill. Typically an area where teenagers hang out so you can imagine the amount of plastic bottles, crisps packets, chocolate and sweet wrappers and alcohol bottles. 
A big thank you to all that took the time out of your Saturday morning to give back and help our community become a little greener and a little prettier! Here's everyone who turned up:
- Kieron and Amanda
- Youssef and Barney
- Paulina and Martin
- Hilary
- Trevor Margot and Daisy
- Ben, Christ and Tom
- Ean Molly and Noah
- Lottie our yoga guru and Charlie
- Steve Biggs lending a hand with ruptured ankle
- Big bad Rebecca and Tommie Boy 
Great team effort and @BambuuBrush look forward to seeing more people at the next clean up which will look to commence within the next month.
Keep an eye out for all updates on @BambuuBrush social media pages...
Get your @BambuuBrush bamboo toothbrush with discount code "BUZZ10" and make your one simple change today away from plastic to a more environmentally friendly future.