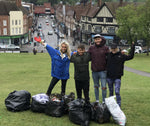 @BambuuBrush Hitchin Clean Up 2.0
Cleaning Up - Hitchin - @BambuuBrush 
Plastic Pollution - Hitchin Clean Up - Eco Friendly Products 
A bamboo toothbrush is just a first step to fight plastic pollution. Plastic pollution is becoming an increasing sight to see, not only through social media but it is a growing sight to see first hand. The impacts of plastic pollution on our environment are now not only in Asia but across the world and in our hometowns and communities. @BambuuBrush, a local business who have one simple product for one simple change, a bamboo toothbrush, have created a world wide movement through social media, to use the power of the platform in a positive way to create change and help educate people how you can swap away from plastics. Click here to go make your One Simple Change to a bamboo toothbrush... get 10% off your order using "BUZZ10" and get 15% off joining the Subscription Option.
After working with the council and Clean Up Hitchin on a previous clean up in March, and with the @BambuuBrush team recently returning from Indonesia to launch a sustainability initiative partnered with an Australian Travel company, Intro Travel, where they organised a beach clean up on Gili Islands, @BambuuBrush set their sights on organising one in the company's home town of Hitchin.
Prior to the event there was a lot of interest but when waking up on the day of the clean up, the english weather was out in full force. @BambuuBrush posted through their social media that they would not expect anyone to join them in the torrential rain but a small group turned up and joined in with the Clean Up. They focused on the area in Hitchin called, The Dell, and they were horrified by the extent of the problem. 
Instead of explaining the extent, we can just show you how bad it was. Hitchin is quite an affluent area just north of London and these photos were taken just off a main footpath in the centre of the town.
In 1 hour of cleaning, our small group collected 12 full bin bags of trash and litter, which is scary considering we delivered a clean up on 2months prior to this event. 
A big shoutout to 12year old, Youssef who took it upon his own initiative to take action and turn up to the clean up by himself and do his part for his town and for his planet! A true role model at 12years old!
We hope this clean inspires more of you to just get out their and do your small part for our environment and to take care when recycling. 
One simple change, multiplied by millions and we will change the world...
Make your one simple change away from plastic to bamboo with @BambuuBrush bamboo toothbrush and get 10% discount with "BUZZ10" or a 15% discount when choosing the subscription package! link below