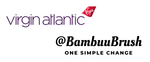 Virgin Atlantic Airways x @BambuuBrush
Virgin Atlantic Bamboo Toothbrush - Sustainable products - @BambuuBrush
Sustainable Travel - Plastic Free - Eco Friendly Products
Virgin Atlantic Airways are continuously striving to improve their sustainability throughout all aspects of their business and flights from; their new recycled fuel system by Lanzatech, the training of their pilots to improve the flight path and efficiency of every flight in regards to carbon emissions, to working hard with MNH sustainable amenities to reduce the amount of waste that a flight produces. 
@BambuuBrush are extremely proud to announce that we will be supplying all Virgin Atlantic flights from September 2019 with our @BambuuBrushes. 
Every Upper class passenger will receive an @BambuuBrush with their sustainable amenity kit, every premium economy passenger will receive a Bambino @BambuuBrush and every passenger can request a Bambino @BambuuBrush on every flight. 
We are delighted that we can now continue to spread the awareness regarding plastic pollution to a wider audience to educate and inspire as many people as possible so we can all make simples changes away from plastic to sustainable alternatives. 
Amongst the sustainable amenity @BambuuBrush we be working with other amazing companies who are taking actions towards reducing plastic pollution to work in a more sustainable and plastic free world. 
Founded in London in 2000, REN Clean Skincare has constantly challenged skincare convention. As a brand we've only offered high-performance skincare with visible results - while avoiding any ingredients that don't benefit skin. Since then the vision has evolved to include pioneering clean packaging, researching and creating solutions to reduce our waste impact, pledging to be Zero Waste with packaging by 2021*. REN Clean Skincare is Clean to Skin, Clean to Planet and committed to having a positive impact on our shared world.
Galileo Watermark design, develop and manufacture customised products for the world's leading airlines. With over 35 years of experience, its specialist design team provide innovative tailor-made designs from concept to production. Responsible for developing the first ever amenity kits onboard Virgin Atlantic, Galileo Watermark is now proud to be working with the airline once again in the creation of the most sustainable kits available in the industry. This milestone launch is testament to the increasing focus on sustainability, and the quest to provide product that is not only good for the customer, but good for the environment too.
ONE SIMPLE CHANGE, MULTIPLIED BY MILLIONS, AND WE WILL CHANGE THE WORLD! 
Don't forget to get your environmentally friendly bamboo toothbrush from @BambuuBrush and join their online social media movement to educate and inspire people to make simple changes away form plastic