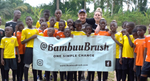 True Partnership - @BambuuBrush x Humanitas
Environmental - Humanitarian - Plastic Pollution
One life-changing experience - When fighting Plastic Pollution meets Fighting Poverty - Eco Friendly Company and Charity
When Tommie Eaton and Rebecca Dudbridge thought of their bamboo toothbrushes changing the world and created @BambuuBrush at the start of 2019, they knew that giving back would be at the forefront of their business. In a coincidence of events 
Tommie and Rebecca bumped into the founders of Humanitas Charity and instantaneously knew that their chosen charity would be Hitchin-based Humanitas. A year since making that decision, they flew to Ghana to join some of the Humanitas team at one of their largest projects. And the experience was life-changing.
Rebecca said: 'We wanted to see for ourselves - and show our customers on social media - exactly how all the donations we make have an impact on those who need it most. Our close partnership with Humanitas has developed so much in the last 12 months and it was important for us to take that one stage further by seeing their work in action.'
The team's first visit when arriving in the country was a huge eye opener, seeing first hand the impact that plastic has on developing countries like Ghana. Tommie said: 'We were blown away by the amount of plastic there was everywhere. The beaches were full of single-use plastic, especially toothbrushes.'
Next on the itinerary was a visit to Agbobgloshie, one of the world's largest e-waste dumps, escorted by a royal representative and with specific permission from the rulers. There, they saw mounds of electric waste which is recycled and the surrounding rivers full to the brim with plastic pollution.
'We met up with one of the Ghanaian Princes to discuss the issues around the country's plastic pollution,' said Rebecca. 'We have travelled to more than 40 countries and over the last three years focused on plastic pollution and this is by far the worst we have ever seen.' Tommie and Rebecca discussed their plans to set up simple recycling centres in developing countries and the need of education from the top to succeed in their plans. The Prince spoke about the country's plans to implement eradicating single-use plastics further in their journey but the first step is to have the correct facilities and infrastructures in place to cope with the amount of plastic consumed. 
When Tommie and Rebecca arrived at the village of Ayensuako, they were immediately struck by the happiest smiles of the children. 'Life is often tough here, but there's so much everyone is doing to help each other,' said Tommie. 'We visited a local orphanage funded single-handedly by a women named Charity. She takes in more than 60 children, sometimes she has to sell her own jewellery to make sure she can provide food for the children.
'We are working hard to raise £5,000 to build a solar powered water well to allow the community access to fresh, clean water. One morning we shadowed one of the children, Grace, walking 25 minutes to the river to collect water for their family. They have to do this twice a day. Once we hit our goal to build a solar powered water well, not only will it provide them with clean water, improving their health, but will also mean more time for the children to focus on their education.'
One of Tommie and Rebecca's aims while in the local school - which is run by Humanitas - was to deliver the @BambuuBrush plastic pollution workshops that have already educated hundreds of UK school children. Rebecca said: 'The children were so keen to learn: we had to adapt our lessons because most of the children had never seen the sea first hand. We had a lot of fun.'
Knowing that the Humanitas school football team was the only to turn up to local competitions without kit, Tommie and Rebecca made it their mission to change this. Thanks to generous sponsorship from Sporting Futures Training and SportsBulk International, the Humanitas football team now has two team kits!
Tommie said: 'It was my birthday while we were in Ghana and it was my best ever! Our sponsorship allowed 12-year-old twins Emmanuel 1 and Emmanuel 2 to attend school for the first time and they fitted in so well. We learned so much from this experience, in a trip filled with so much purpose. These people have so little but are so happy: we can't wait to return!'
You can see more of the @BambuuBrush extraordinary experience in Ghana on social media, where the videos show so much about everyday life.
If you want to come on a trip with @BambuuBrush and Humanitas Charity in the future keep an eye out on our social media pages as we will soon have some very exciting announcements to be made.
And don't forget to get your bamboo toothbrush on our website @BambuuBrush as $0.25 of every sale goes towards helping this incredible charity.