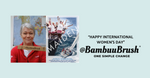 HAPPY INTERNATIONAL WOMEN'S DAY
INTERNATIONAL WOMEN'S DAY
There are many powerful women behind @BambuuBrush from the staff & clients to our customers, all playing a huge role in positively impacting our planet & people. ⁠Today we wanted to highlight Tracy Edwards and the mission behind the Maiden.⁠
Tracy took part in her first Whitbread Round the World Race as cook aboard 'Atlantic Privateer' in 1985/86 becoming the first woman to race around the world on a Maxi. In 1990 Tracy was awarded the MBE and became the first woman in its 34 year history to be awarded the Yachtsman of the Year Trophy.
To celebrate today, we recommend you watch Maiden on Netflix, you will finish the film totally inspired and empowered by the power of FEMALES. 
Fast forward to 2014 when Tracy learned that Maiden had been abandoned and was rotting in the Seychelles. She knew that she had to save this unique piece of maritime history and set about raising funds to buy her and bring her back to the UK. In April 2017 Maiden was shipped to Southampton where she underwent an extensive restoration and The Maiden Factor was born.
Maiden's new mission became raising awareness of the 130 million girls worldwide who are currently not able to access an education by interacting with, fundraising for and supporting community programmes worldwide which enable girls into education and support them to remain there through their teenage years.
⁠
We are super proud to be Official Suppliers of their world tour. Check out the crew inspiring others to make 'One Simple Change'⁠