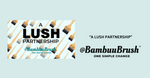 LUSH - SUSTAINABILITY -ECO
@BambuuBrush - Lush 
Here at @BambuuBrush®,we love a partnership and our latest one is simply 'Lush'! "We are so excited to be working with the team at Lush, who are committed to creating wonderful beauty products that are cruelty-free," says @BambuuBrush® co-founder Rebecca Dudbridge.
"For years, Lush has been focused on reducing plastic and now we're collaborating with them to create a vegan, sustainable tint brush to apply henna with precision. "Every tint brush starts with a bamboo shrub growing on a mountain in China - and we all know just how sustainable bamboo is, as one of the most sustainable materials in the world. Then vegan-friendly Carnauba wax is used to coat and finish the tint brush, preventing the porous bamboo from henna staining.
Everyone can buy their Lush/@BambuuBrush® tint brush in Lush's 104 stores across UK and Ireland from 22 February - or order online at HERE
"This is such an exciting partnership," says Rebecca. "We're collaborating with a huge global cosmetics company that shares our values and brings sustainable alternatives onto the high street."
We're always looking for opportunities to collaborate. Just let us know if you're involved with an organisation that shares our passion for sustainability.