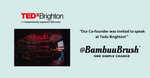 Our Co-founder was invited to speak at Tedx Brighton!
TEDTALK - INSPIRE - PLASTICS
ECO - BRIGHTON - TEDx
When @Bambuu co-founder Tommie Eaton was invited to speak at Tedx Brighton on World Earth Day - 22 April 2022 - he used the platform to speak movingly about plastic pollution. More than 1,800 people attended the event, with thousands more watching on YouTube.
In these difficult times, it can be hard to maintain the focus on climate change and the small differences we can all make, but in his Tedx talk, Tommie focused on what our future might look like if we DON'T make changes. From the opening sentences on stage at the Brighton Dome, Tommie hit the audience hard with statistics about the damage we are doing to our planet.
He says: "You - me - we need to change from being passive and OUT of the conversation to active and IN the conversation.
"With plastic being linked to over 1,000,000 deaths each year and plastic being found in our blood, our lungs and even the womb of pregnant mothers, why is plastic pollution not one of the leading goals to combat at the top?"
He went on to say: "Outside of the obvious goals of creating a circular waste free world, there is an incredible power in being able to engage a population and a generation to be part of the solution and open a conversation about global climate issues."
Tedx talks are always under 18 minutes, so Tommie took time to focus on the things that matter and the key messages he wanted to get across to what was a local audience in Brighton but a global audience through the Tedx Talks YouTube channel.
Watch Tommie's speech here: https://www.youtube.com/watch?app=desktop&v=19FzU6FZxyc