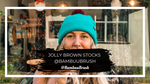 Jolly Brown stock @BambuuBrush
Jolly Brown - Hitchin - Bamboo Toothbrush UK
Environmentally friendly Products - Second Hand clothing - Vintage clothing
@BambuuBrush and their eco friendly bamboo toothbrush has now hit retailers across the country.
The first retail to stock @BambuuBrushes in Hitchin is Jolly Brown, a vintage shop that is more than a vintage shop. Jolly Brown, who have been in Hitchin since 2007, have a great connection with the town and continue to promote sustainable fashion through their "Relove, Reuse, Recycle" slogan.
Hannah, the owner of Jolly Brown, not only sells men's and women's clothing, accessories and homeware, she buys vintage clothing off customers to help prolong the longevity of clothing and move away from fast fashion. Fast fashion is definitely a very topical subject at the moment with the potential of a fashion revolution with studies showing up to this point now, customers did not care about where their clothing comes from but habits are changing, consumers care more now where there clothing comes from and the lifecycle of their items.
Head over to Jolly Brown at https://jollybrown.co.uk and go check out all their incredible vintage clothing. Once you buy an item from Jolly Brown, you instantly become 10 times cooler when you walk out... FACT!