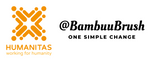 Humanitas Charity x @BambuuBrush
Bamboo Toothbrush UK - Eco Friendly - Chairty
@BambuuBrush, a bamboo toothbrush company are working closely with Humanitas Charity
Humanitas Charity are a humanitarian charity who believe that no adult or child should live without these essentials; Family, Healthcare and Education. They have been working since 2001 with vulnerable individuals to get them a chance to not only survive but to flourish in life! Humanitas Charity provide long term, professional support in areas around the world in poverty to build schools, treat illnesses and create long lasting families for children without a home. The team at Humanitas are on the ground providing first hand care in times of crisis.
Tommie and Rebecca met with the team at Humanitas Charity earlier in the year and they could not stress enough the passion and inspiration that Ramiz, Sarah and Genevieve gave Tommie and Rebecca. The work that the team has already achieved and is continuously working hard on around the world is mind-blowing. For this reason @BambuuBrush are so privileged to be able to work with Humanitas Charity, to collaborate on a number of future projects to continue to increase the lifestyle of vulnerable individuals around the world.
Starting September 2019 @BambuuBrush will be working with Humanitas Charity linking with our partner schools to incorporate a humanitarian and an environment program for primary and secondary schools! This links our Plastic Pollution - Save Our Oceans workshops that we will be delivering in primary schools.
Due to the inspiration that Humanitas Charity produce, @BambuuBrush have chosen them to be a partner charity in which every online sale of an @BambuuBrush $0.25 will be donated to the charity and for every @BambuuBrush bambino toothbrush sold online, we will give 1 @BambuuBrush bambino toothbrush to a vulnerable child in need.
We are genuinely privileged to be able to work with the team at Humanitas and we are really excited to work on projects in the future to help fight poverty and plastic pollution around the world!
To donate to Humanitas Charity directly please click on the link below...
https://www.humanitascharity.org/donate
So make sure you get your bamboo toothbrush from @BambuuBrush  and see where your donations go.