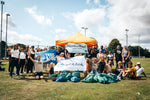 @BambuuBrush partner with Plastic Oceans
Plastic Oceans partnership with @BambuuBrush inspiring the world to make simple changes to sustainable products
What an amazing day with @BambuuBrush partnering with Plastic Oceans to deliver 2 huge clean ups in our local community for Trees and Seas festival 🌊💙 over the last few weeks we've worked with Plastic Oceans as part of a global environmental festival to educate and inspire people from all over the world to start their sustainable journey!
Sunday we delivered 2 clean ups with a total of 68 people collecting 80kg of plastic and waste! We also had a production crew come down as part of something pretty exciting we are currently working on that will be released in Sept 👀🎥
Make sure you head over to Plastic Oceans and check out all the incredible work they are delivering around the world and see how you can get involved too! Now who's joining us for our next clean up…?
Big thanks to JAF Milligan for the photos, HBLC marketing @freshcutuk @bradleymartinfilms for the filming, @northherts21 and @hitchinrugby for partnering with us after their incredible festival and @vutiebeets and @hubfitness.co for a new style of events that we can't wait to deliver again next month 🌊